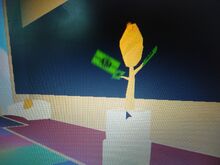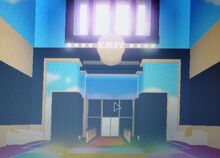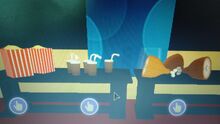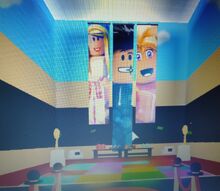 VIP

is a game pass that can be purchased with Robux. This game pass unlocks exclusive benefits.
Features
The VIP game pass comes with the following features:
VIP Room Access (free food)
Exclusive Limo
VIP Chat Tag
100 Bucks

VIP Room
The VIP Room is located in the nursery. The only player who purchases the pass is allowed to enter this room.
Place
Once the player enters the room, the player will step on a red carpet. As the entrance, there's a barrier on both sides of the red carpet.
The red carpet is connected to a dance floor. In front of the dance floor there's a table that has:
Water
Ham
chocolate milk
Popcorn
On it. If the player looks on the upside of the table, there's a huge poster hanging there. Two mini sofas is located at the edge of the room (both sides, left and right) while two others are located at the right and left the side of the room. On both sides of the dance floor, there's a money tree.
Notes
The money tree is just there for decoration. It will not give you money, it never has. It did not come with the Money Tree update that gives you money.
If the player looks on the upside of the door to enter, the player will find the 'Exit' lamp.

Community content is available under
CC-BY-SA
unless otherwise noted.