This user is an Adopt Me! Wikia Expert.
This user has been recognized for their contributions by helping make the wiki look more professional, in which they demonstrate support and expertise to the wiki and
Adopt Me!
. If you want some expert advice, you can ask them on their
talk page
!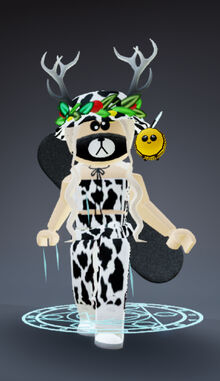 My BEAUTIFUL Intro!
Haha! You found me! I'm Wood707 but you can just call me Wood, or Kaitlyn! I am part of the wiki staff and am an expert! I am very familiar with the rules and guidelines, editing, and some trades! If you need any help let me know on my message wall. Thanks!! Have a nice day/night!! :D
Hobbies
Some of my favorite hobbies are to play Adopt Me! Of course! And be on this wiki! In my personal life I play volleyball and I also play the Violin in my schools orchestra!
I can do profile pictures but I draw on paper and it's in pencil (A.K.A. all black and white) Most of the time I do it free but donations are always welcome!
In my academic life I make all A's and try as hard as I can to succeed in life. One of my goals is to be a Moderator on this wiki!
Some key points/lessons that help me are to never give up, giving up is always a last resort for me, it never gets anything fixed or accomplished. Another one is to remember, we're not perfect, we all make mistakes, and we always need to learn from them! :D
Some sweet people who have helped me! :D
Oh, before I forget, AligrlA is my best frwend. Lol, I luv u all too!!! :)) Sopho303 is dat sweet person. :) Oh! How could I forget!! you is the most sweetest, kindest, and best person I know! Sweetiepea0423 is my irl best friend, love ya!
Random things you might want to know!!
- Was offered the Expert Role, September 21, 2020- Accepted!! :D
My favorite pages
Community content is available under
CC-BY-SA
unless otherwise noted.