(ノ◕ヮ◕)ノ*:・゚✧  ʜɪɪ  (ノ◕ヮ◕)ノ*:・゚✧

My favorite games on roblox are Royale High, Adopt Me!, and Murder Mystery 2. My Roblox username is iiMidnight_Plays and my RP name in Adopt Me! is Midnight. My timezone is EST, the same as Kuyong's, and I'm usually online after 4:30 pm because of school, but right now because there is no school, only online work, I'm on from 8 am-10 pm. I'm friends with UnicornGamerReanne irl.
I started playing Adopt Me! in October/November 2018, then stopped, and started playing again on June 2019 courtesy of my friends begging me to play, and I have played regularly ever since. If you ever want to join me, then I recommend you follow me, because I will not accept random friend requests.
I usually put up fun polls every day to find out what people think about values, trades and stuff like that because I suck at trades (just my opinion)
Feel free to leave something on my message wall!
My Pets and Adopt Me! Status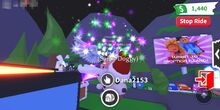 Favorite common pet: Dog (favorite neon is Cat)
Favorite uncommon pet: Snow Cat (favorite neon is Pink Cat)
Favorite rare pet: Bunny (favorite neon is swan)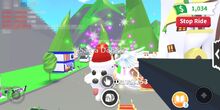 Favorite ultra-rare pet: Santa Dog (favorite neon is elf hedgehog)
Favorite legendary pet: Arctic Reindeer (favorite neon is Shadow Dragon)
As of March 10th, I have all the Aussie pets except the legendaries
My neon pets are N Fennec Fox*, N Chocolate Labrador*, NR Wolf*, NFR reindeer*, NR bunny. I'm currently making my mega neon fly ride shiba inu and a mega neon dog and rat.
*= Neon pets I traded away
My favorite pet overall is my FR Santa Dog, and my favorite neon is shadow dragon, which is also my dream pet.
My log in streak, as of June 16th, is 105.
I live in a Luxury Apartment in the game, with my 5 friends that have rooms.
My favorite update in Adopt Me! was the Christmas 2019 one.
Community content is available under
CC-BY-SA
unless otherwise noted.