This user is an Adopt Me! Wikia Discussion Moderator.
This moderator oversees Discussions and deletes any inappropiate posts that violate Rules and Guidelines. If you need to report a user's Discussion, message them on their message wall!
Aye, oui oui, mon ami, je m'appelle Lafayette. The Lancelot of the revolutionary set. I came from afar just to say bonsoir--oop. Hello you, don't mind me. Just listening to the HamilFilm on repeat.... Anyways, I'm GreatnessGranger13, you can call me Granger. I mean, it would be a little weird if I had everyone call me Greatness. Anyways, I'm a discussion moderator here. Hence the "The user is an Adopt Me! Wikia Discussion Moderator" thing. Don't mind that "innapropriate" is misspelled. I tend to correct grammatical errors, forgive me if I do that to you. But I mean, c'mon! Grammar's important: use it. I consider eloquency through my words and writings a necessity. I'm a bit quirky. Ignore my contant "HIYA" and "😁✌️👍". I'm a fan of essays, but most aren't. So I'm not going to make this an essay.... Welp, that's that.
My interests
Aww, thank you you! You actually cared to learn more about me.... I apologize to anyone other than you...they're just so sweet! Let's get on to me and my interests, shall me?
As you've seen, I'm a huge Hamilton fan! Lafayette and Thomas Jefferson are obviously the best charHamacters. Thank you Daveed Diggs! If I were to relate myself to any of the characters...it would probably be evil King George or abrasive Hamilton. Hehe...
I'm an avid reader. I read, then I read, then I read somemore. I'm a diehard* Harry Potter Fan (c'mon Rowling, why'd you have to kill off all our favorites?) and I love Hunger Games (rest in peace Rue, we will forever love you)! Please tell me if you have any books to recommend.
I. Love. Pugs. Pugs, pugs, pugs, pugs! They're soooooo cute!! Especially my Doug, Doug The Pug (thank you Leslie). ...Have I made it clear that I love pugs? They're gods. I really want a pug, pug, pug, pug. Even the name's fun.
I have 2 kittens. We call them the HamilCats.... Their names are, obviously, Lin Manuel, um, Granger and Eliza Soo, um, Granger. Yes I replaced my last name with Granger. :P Anyways, their birthdays are in July.
*I am a bigger fan than Banana.
Feel free to report anything to me. If I do not answer within 15 minutes, I am asleep.
Mentors
The following are some people that have guided me. By the way, I am going down the list: admins, mods. :P
Vastmine1029
AligrlA
Th3Y3ll0wL3m0n
Shadowlordgamer1
CaptainMystical
MxdameKuyongx
Mythienne
Not Silica
Sopho303
"Fight for the things that you care about, but do it in a way that will lead others to join you."
Quotes to live by
"Fight for the things that you care about, but do it in a way that will lead others to join you." - Ruth Bader Ginsburg (ultimate idol)
"Intelligence without ambition is like a bird without wings." - Salvador Dali
"If your actions inspire others to dream more, learn more, do more and become more, you are a leader." - John Quincy Adams
"Innovation distinguishes between a leader and a follower." - Steve Jobs
"Do not follow where the path may lead. Go instead where there is no path and leave a trail." - Ralph Waldo Emerson
Friends
Okay, sorry if I don't include you. I've decided, since I have too many friends on the wiki...I'm only going to put my best friend. I'm really, really, super, duper sorry if I don't include you!
Thank you for being wonderful you!!! Again, I love everyone on this wiki. I'm really sorry if I didn't include you. D:
Dates for the Mind
So...I joined the wiki on July 7, 2020
Then I applied for report team and got accepted on August 12.
On August 18 I applied and was accepted as Discussion Moderator.
September 1 was when I blocked my first user.
That's all! :)
My Pug Gallery
If you have a suggestion, tell me on my message wall! :( Sadly, I cannot but GIFs. Poor Moana Pug and Basketball Pug. T-T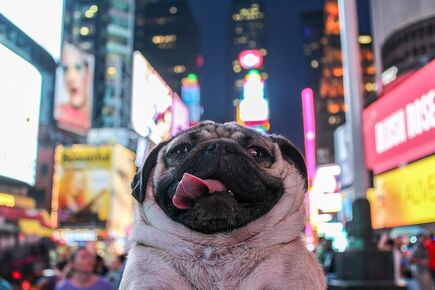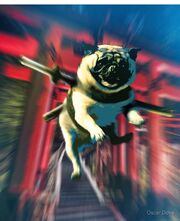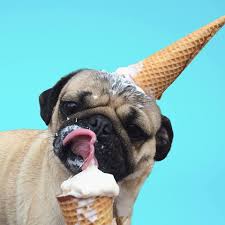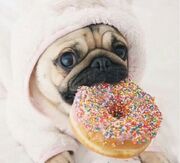 If your pug is not on here, I apologize sincerely. It is either because I could not put it here (hello GIFs!) or I will in the future.
Goodbye!
Bye!! Thanks for looking at my page, have a wonderful day! 😁✌️👍
Quick Notice
Do not edit my page. Occasionally, I will give some users permission to do certain things. you, you do not have my permission to edit this page. Even though you are my best friend. If you do, it will result in consequences.
To summarize, just don't edit my page. Plain and simple. Do. Not. Edit. My. Page. That does not mean you go into editor and make no changes. That does not mean you go in and add a cute picture to my pug gallery. Do not even come close to editing my page.
One Final Thing
Please, please, please! I'm female! Not a sir, him, or he. No need to call me ma'am either.
Repeat after me:
I, you, solemnly swear that I'm up to no good. I mean--I mean, um, that I won't refer to Granger as a male.
Community content is available under
CC-BY-SA
unless otherwise noted.