The Tiffany is a two-seater legendary vehicle. It can be obtained in the Supercars pack for

1000.
The only way to obtain the Tiffany other than trading is by purchasing the Supercars pack, which means it comes bundled with Douglas and the Axel. There is no way to purchase the Tiffany as a standalone vehicle.
Appearance
The Tiffany is a modern bright pink mid-engine supercar. The Tiffany's appearance seems to be heavily based on the Bugatti Veyron and the Bugatti Chiron, as they are both mid-engine supercars and have a very similar curved design.
Handling & Speed
The Tiffany, being a supercar, has impressive acceleration. This, however, is largely contrasted to its very poor handling. The Tiffany is comparable to the
GoKart
in terms of use, as both can reach really fast speeds but have poor handling. In terms of usability, the Tiffany is more efficient than the GoKart due to it having a passenger seat. The Tiffany's speed and handling also match with the other two supercars, as they are in fact mere reskins of each other and don't any distinguishing features other than their name and appearance.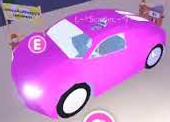 Pros & Cons
| Pros | Cons |
| --- | --- |
| Can seat you and another player | Very expensive for a vehicle. |
| Very Quick | Poor Handling |
| Stylish & Modern appearance | Does not come as a standalone vehicle, has to be purchased from the Supercars Pack or obtained via trade. |
Community content is available under
CC-BY-SA
unless otherwise noted.