The Playground
or Pet Park is a place in
Adopt Me!
This place is where you can take your babies or pets to cure the bored ailment.
On February 14, 2020, the Playground got remodeled to also be a pet park, which had more interactable features to do there.
During the 2019 Halloween Event, the playground was replaced with the Graveyard until November 1, 2019. What you could do there was go to the Candy Trading Shop, or do the graveyard challenge to get candy where you had to see where ghosts went and not go to the graves they were in.
The Obbies are now located behind the playground, behind the big blue slide. Children can play on the left side of the park. The top tree towards the swings is a treehouse.
Interactable Features
Trampolines / Pumpkin Tops
Slide
Patio with chairs and a stage
Treehouse (Very High Up)
Weave
Tunnel
Bar Jumps
Merry-Go-Round
Swings
Tree Swing
Obby Shack
Graveyard Challenge (Removed)
Candy Trading Shop (Removed)
Trivia
This is the first place to get remodeled twice.
There is a glitch where the merry-go-round could appear in the gift shop. This is a bit rare.
Gallery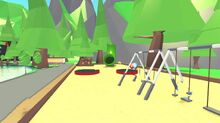 Community content is available under
CC-BY-SA
unless otherwise noted.