The Starter Egg is a free egg that is given to you when you enter Adopt Me for the first time and go to the Nursery where Sir Woofington is. It will only hatch into a Dog or a Cat. You cannot obtain it anywhere else in the game and it is non-tradeable. You can only get one of these. You have to hatch this egg to be able to start playing the game, unless you make your money by being a baby and taking care of yourself. It is the first egg that has a 100% chance of hatching into a common pet, with the second one being an Easter 2020 Egg. You also have to be an Adult to get the egg...
Note: It is sometimes stated that the Buffalo hatches from the Starter Egg, but it does not.
Pets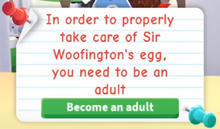 The only pets you can get from the Starter Egg are a Dog or a Cat. This egg cannot hatch anything else.
Community content is available under
CC-BY-SA
unless otherwise noted.