The Snow Puma is a rare Pet added to Adopt Me! at the beginning of the Pet Update, when pets first came out. A player can obtain it by hatching a Cracked Egg

350, Pet Egg

350, or a Royal Egg 

1400 or by Trading.
Tricks
Here are the tricks a Snow Puma learns in order :
Sit - Newborn
Lay down - Junior
Bounce - Pre-Teen
Rollover - Teen
Backflip - Post-Teen
Dance - Full Grown
Appearance
The Snow Puma has white fur, triangular-shaped ears with pink inside, a white tail, light gray on its belly, white paws, black eyes, a pink nose, and a muzzle with whiskers.
Neon Appearance
The Neon Snow Puma has its ears, paws, tail, and nose glow bright pink.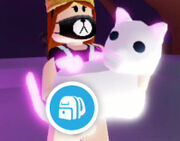 Mega Neon Appearance
When turned Mega Neon, the Snow Puma's neon parts will glow in a rainbow pattern, replacing the pink.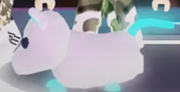 Community content is available under
CC-BY-SA
unless otherwise noted.