The Rabbit is classified as one of the Rare Pets and can be obtained by hatching a Cracked Egg, Pet Egg, or Royal Egg. Though similar to the Bunny they are not to be confused as their appearance looks the same.
Appearance
The Rabbit has white fur all over its body, complete with two tall ears filled with pink fur on the inside. Like most pets, it also has black eyes and a pink nose. To not let the rabbit be confused with the bunny, rabbits have a rounder body and no whiskers.
Tricks
Here are the tricks a Rabbit learns in order :
Sit - Newborn
Lay down - Junior
Bounce - Pre-teen
Roll over - Teen
Backflip - Post-teen
Dance - Full-grown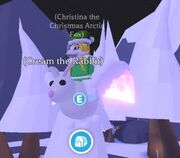 Neon Appearance
The Neon Rabbit glows a bright pink inside its ears, paws, and also glows pink on its nose.
Mega Neon Appearance
The Mega Neon Rabbit's ears, paws, and nose glow in a rainbow cycle.
Trivia
It looks like the Bunny, but with a slight rounder body and shorter ears.
Community content is available under
CC-BY-SA
unless otherwise noted.