The Puma is a non-limited Uncommon pet in Adopt Me!. It can be obtained through the hatching of Cracked Eggs, Pet Eggs, and Royal Eggs.
Appearance
The Puma has a tan body and a lighter tan underbelly. The Puma has black eyes, a light pink nose, and three whiskers on each side of its face. It also has triangle-shaped ears, with a darker tan color on the inside.
Tricks
These are the tricks it learns in order :
Sit (Newborn)
Lay Down (Junior)
Bounce (Pre-Teen)
Roll Over (Teen)
Back Flip (Post-Teen)
Dance (Full Grown)
Neon Appearance
The Neon appearance of the Puma is it having a glowing yellow nose, ears, feet, whiskers, and tail.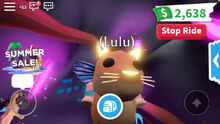 Mega Neon Appearance
In the Mega Neon version of the Puma, all the same spots that were glowing from the regular Neon version are now glowing in a rainbow cycle.
Variants
There are versions of the puma namely.
Community content is available under
CC-BY-SA
unless otherwise noted.