The Pool Party was an area in Adopt Me! added in the 2019 Summer Update that satisfies the Pool Party aliment while taking care of a pet and/or a baby. It is a bonus activity, like the Hospital, School, Playground, and Camping.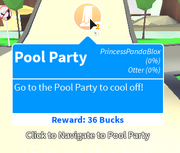 The Pool Party is an orange activity, which gives you extra bucks, as is Camping. When you finish the activity, you receive
12. Being present within the boundaries of the Pool Party is enough to satisfy a baby/pet's ailment, which means it can be completed even if they are standing still.
The Pool Party features various activities like a man-made beach, a lake with enormous beach balls, and two slides, one of each is swirls around a waterfall. The Pool Store is located right next to the Pool Party, where players can buy different items to use in the water.
Trivia
The umbrellas at the Pool Party lack collision, meaning anything can go through them.
There used to be a glitch where players could easily access an underground cave-like area located just under the Pool Party bridge. This has since been patched.
As vehicles still function underwater, players with small enough vehicles can squeeze underneath the bridge. Being underneath the bridge is still enough to satisfy a baby/pet's aliment, provided that they stay within the boundaries of the Pool Party.
The Pool Party area turned into a Hot Spring area during the Fall Event in 2020. It temporarily gives

24

instead of the normal

12

for finishing the Pool Party task.