The Pet Egg is a rare egg that costs

600 and is currently available at the Nursery. It is most likely to hatch into an uncommon pet (35%). Every pet which is not for a limited time or a gamepass pet is available in this egg, such as the Dragon, a Snow Cat, and the Dog to name a few. Its appearance is a completely white, smooth egg, with no other accessories or details. Players can purchase it from Holly, the cat lover in the Nursery.
Pets Available from Pet Egg
Common
Buffalo- 5% chance
Cat- 5% chance
Dog- 5% chance
Otter- 5% chance
Uncommon
Chocolate Labrador- 8.75% chance
Fennec Fox- 8.75% chance
Puma- 8.75% chance
Snow Cat- 8.75% chance
Rare.
Beaver- 6.75% chance
Bunny- 6.75% chance
Rabbit- 6.75% chance
Snow Puma- 6.75% chance
Ultra Rare
Red Panda- 7.5% chance
Shiba Inu- 7.5% chance
Legendary
Dragon- 1.5% chance
Unicorn- 1.5% chance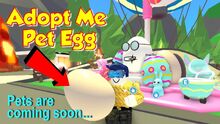 Trivia
Like the other eggs, you cannot put accessories on it, probably to prevent scams like pretending it's a Royal Egg by putting the Founder's Crown on it.
The Pet Egg was first seen in the Easter Event in 2019 where players could obtain it if they talked to Eggburt, an NPC while having a Broken Egg in their inventory. However, it could not be hatched at the time.
Community content is available under
CC-BY-SA
unless otherwise noted.