The Ninja Monkey is one of the Monkeys in the Monkey Fairground. It was released on May 28, 2020, at 12:00 PM (EST). To obtain this monkey you need 3 Scroll Ingredients to transform a normal Monkey into a Ninja Monkey. Players can get Ingredients from the Monkey Boxes, which cost

600.
Appearance
The Ninja Monkey is a Monkey dressed as a ninja with a kitsune mask on its forehead. It appears as it's holding a scroll in its tail.
The Kitsune Mask and Ninja Headband are trade-able and come with the Ninja Monkey. They are separate pet accessories and can be found in the 'Pet Wear' section in a player's inventory.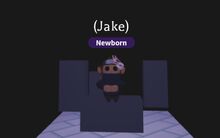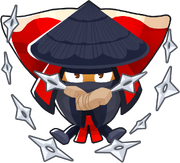 | Accessory | Rarity |
| --- | --- |
| Kitsune Mask | Rare |
| Scroll | Ultra-Rare |
| Ninja Headband | Uncommon |
Tricks
Sit (Newborn)
Lay down (Junior)
Beg (Pre-Teen)
Joyful (Teen)
Trick 1 (Post-Teen)
Trick 2 (Full Grown)
Neon Appearance
The Neon appearance has the Ninja Monkey's belt and feet glowing light blue.
Mega Neon Appearance
The Mega Neon appearance rotates colors of the rainbow on its belt and feet.
Trivia
Community content is available under
CC-BY-SA
unless otherwise noted.