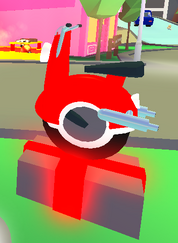 The Mono-Moped is a single-seater legendary Vehicle. It could be obtained from an old gifts batch. It costed

99,

199,

499 in the respective gifts.
The Mono-Moped closely resembles the Moped, with it's most distinctive difference being the fact that it has a large, singular wheel, hence the name. The Mono-Moped also has two distinctive exhausts which are not present in the standard Moped, and the steering handles are connected lower down than those of the Moped. Other differences include the seat being slightly thinner, and the headlight enclosure being white instead of having the same color as the rest of the body.
Pros & Cons
Pros

Cons

A Legendary
Only 1 Seat (only you can ride in it)

unless a player becomes a baby

No longer obtainable
Community content is available under
CC-BY-SA
unless otherwise noted.