The Jungle Egg is a legendary egg that cost
750 and was obtainable from the Gumball Machine from August 31, 2019, to November 22, 2019. It is now unobtainable unless through trading with other players. The Jungle Egg features a brown egg with branches and leaves.
The Jungle Egg was the second egg to be added to the Gumball Machine. It came after the Safari Egg and was replaced by the Farm Egg.
Jungle Egg Pets
The Jungle Egg has seven pets that can be hatched from it. They are the following:
Trivia
The Jungle Egg contains no common pets, similar to the Safari Egg.
Unlike other Gumball Machine eggs, it does not resemble any of the pets inside.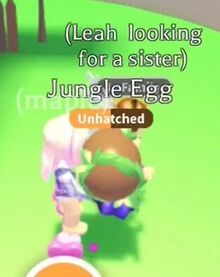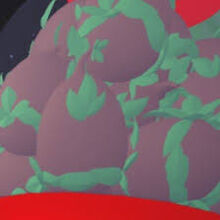 Community content is available under
CC-BY-SA
unless otherwise noted.