The Ice Cream Van, mostly known as the Ice Cream Truck, is a double-seated legendary vehicle in Adopt Me! obtainable through the
350 Ice Cream Van Game Pass.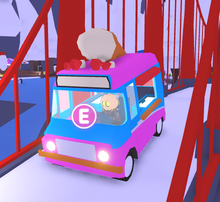 The Ice Cream Van makes up for it's lack of seats with it's unique ability to sell Ice Cream to players, much like the Hotdog and lemonade stand toys. The owner of the van gets to choose the price of the ice cream, however the cost can't be more than 20 bucks and can't be less than 1 buck. The username of its owner is displayed on the back of the van, and the price of the Ice Cream is displayed on the front of the van.
The Ice Cream Van also has a unique tune that can be played to alert players of its presence, much like a real Ice Cream truck.

Pros & Cons
Pros
Cons
Can Play Music
Costs Robux, so it is relatively hard to get
Good Handling
Slow
Legendary
Price cannot be more than 20 Bucks
Can sell Ice Cream, similar to the Hotdog or Lemonade Stands
Has 2 seats, for the player and their pet (or a friend)
Trivia
Community content is available under
CC-BY-SA
unless otherwise noted.