The Hyena is one of the 7 pets available in the Safari Egg. It is listed under the category Rare. Players have an 18.5% chance of hatching one from a Safari Egg.
The Hyena was introduced into the game along with the other Safari Pets and the Safari Egg on July 5, 2019.
Appearance
The Hyena's body is light brown with small black spots. Its snout, paws, mane, and tail are also black.
The tail is bushy.
Actions
Sit
Lay Down
Roll Over
Backflip
Bounce
Dance
Neon Version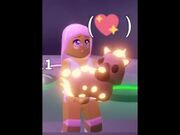 The Neon version of the Hyena has its spots, legs, mane, tail, nose, and paws all glowing a quite bright yellow-peach color.