The Hat Shop is a building in Adopt Me!, where players can buy some hats and various other clothes to customize their pet's appearance.
It was first added into the game on April 4, 2020, where it was submerged underwater. It later emerged right after the countdown to the Hat Update, when it was fished out by Burt, an NPC.
There are a total of seven accessories that are available in the shop at a time, and the available clothing changes every Tuesday and Saturday.
The Hat Shop's shopkeeper NPC is
Bonny
.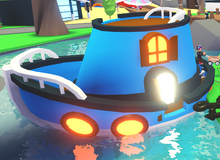 Appearance
The Hat Shop takes the appearance of a blue tug boat with a large anchor, due to when it was underwater. It has three windows (one at the top and two high-pressure windows at the bottom) and a walkway leading up to it.
The interior of the Hat Shop is actually a separate island where the tug presumably sails to when a player enters it. The island has two shop stands where clothes can be purchased from with palm trees and various sea and pirate-themed decorations spread throughout the island. A shipwreck can also be found close to the island. At the far end of the island, you can find a throne-like chair. Resting on this chair is a dog mannequin wearing the ultra-rare accessory available at that time.
Trivia
It is the first building to have a live event for its release.
The throne that the ulta-rare pet item rests on shares it's model with that of the Throne Stoller, but without the wheels.
Community content is available under
CC-BY-SA
unless otherwise noted.