The Golden Rat is a pet in Adopt Me! It is a legendary pet and can only be obtained from the Rat Box. It is only available for the Lunar New Year (2020) event, and now has been since unavailable. Its counterpart is the Rat.
There is a 1 in 15 (6.66%) chance of getting it from the Rat Box.
You also have 14 out of 15 to get a Rat from a Rat Box.
Tricks
Here are the tricks a Golden Rat learns in order:
Sit - Newborn
Lay down - Junior
Jump - Pre-teen
Beg - Teen
Dance 1 - Post-teen
Dance 2 - Full-grown
Appearance
The Golden Rat has white fur, white ears, and white paws; the insides of its ears are golden and so is its tail. It has black eyes and a golden nose.
Neon Appearance
The Neon Golden Rat's inside ears glow bright yellow, as does its tail, paws, and nose.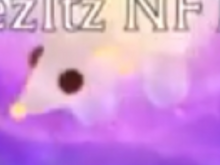 Trivia
This is the second pet that has the word Golden in it, with the first being the Golden Penguin. (Obtained by have a 1 in 10 chance of taming it with a Golden Goldfish). Other golden pets include, Golden Unicorn,Golden Dragon and the Golden Griffin.
It is one of the most common legendaries.