No Man's Sky Update - The Loop
Play Sound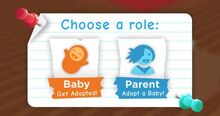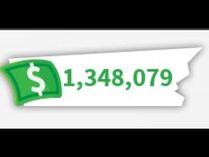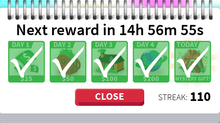 When players log onto Adopt Me!, they are required to select the role of a parent or a baby in order to start playing. Based on the role chosen, the player is granted a special color in the chat area (Parent - Red; Baby - Blue).
Login Bonus
When a player logs into the game between every 15 hours, a menu will pop up and they can receive a daily login bonus. This is known as the Daily Reward.
This system allows players to claim the following days' reward early. Players would have to wait for 1 day and 15 hours if they collected tomorrow's reward early. If players did not collect tomorrow's reward early they could collect the Daily Reward anytime up to 15 hours.
Previously, players could only collect after the 15 hour limit, however Adopt Me! changed this so it would be optimal to other players' schedules. Setting an alert on their device is a good tip for players to remind themselves to login when the streak resets.
If a player logs in every day, they can continue their streak for up to five days, where on the fifth day, the player receives a Gift and 12-20 stars, and the rewards restart. Every 30 days, players receive a Cracked Egg.
Accumulating stars is another important aspect of logging in daily. When a player has obtained a certain amount of stars, they can claim a reward. These rewards include toys, vehicles, pets, and most notably a Golden Egg (or Diamond Egg if the player has claimed a Golden Egg at least once) at 660 stars.
*Periodically, players will receive a Paycheck of

20 for playing the game*
Pets and Babies
Bucks can be earned when the player takes care of themselves as a Baby, taking care of Babies as a Parent, or taking care of a pet. Players will receive tasks to complete, which can be viewed at the top of the screen. Going to the School can help players to complete the majority of these small quests, as there are beds, food for both babies and pets, and water for pets. Being the baby and equipping a pet essentially doubles the amount of money players can earn.
Objectives
Dirty: Players can complete this task by buying and interacting with a shower or bathtub inside of their house.
Hungry: Pets can be fed at the School or in a player's house with any pet feeder. Players can take numerous Apples from the teacher's desk at the School, as well as Marshmallows from the Campsite. Grabbing a lot of the apples and marshmallows, is a good tip for feeding babies and pets on the go. Food can also be bought from Hotdog Stands or the Farm Shop.
Sleepy: Pets and players can sleep at the School, the Campsite, or at a player's house, but babies and pets can only sleep in cribs, pet beds, or sleeping bags.
Thirsty: Pets can drink from the pet feeders at the School or the Nursery's pet water fountain in the "Pets" area for free, however, players will need to purchase something to drink. Drinks can be purchased at Lemonade Stands, the Coffee Shop, or the Farm Shop. Players can buy a Water Cooler, Coffee Maker, or Tea Sets to acquire unlimited water or coffee.
There are also orange objectives. All of these tasks, aside from 'Sick', require players to go to a certain place for a certain amount of time. These tasks are only available for a limited amount of time, though they reward more

Bucks.
During events, there are special ailments. These were only available for a limited amount of time, and currently players can no longer receive these tasks.
Graveyard: This ailment replaced the "Bored" ailment during the Halloween Event (2019). Players could go to the Graveyard for a certain amount of time to complete the task, or play minigames there to obtain Candy.
Haunted House: This ailment replaced the "School" ailment during the Halloween Event (2019), players could go to the Haunted House for a certain amount of time to complete the task, or teach their pets or hunt for ghosts.
Ice Skating: Skate over the frozen lake and collect the gingerbread men scattered over the ice while avoiding penguins during the Christmas Event (2019). Upon bumping into a penguin, players will lose some gingerbread men, the amount depending on how much they had collected so far.
Training Reindeer: Go to the stables in the Winter Village during the Christmas Event (2019) and select a reindeer. Players needed to fly the reindeer to obtain gingerbread men. The reindeer could only fly for a limited amount of time, so if players injure them by crashing them onto the ground, they would have lost 200.
Trading
Trading is a main gameplay feature in Adopt Me! which allows users to exchange their items for other players' items. Until November 5, 2020, players were only able to trade 4 items at once, but after the Trading Update which came out on the same day, this limit was increased to 9 items.
In order to trade Ultra-Rare and Legendary items, players are required to own a Trade License, which can be obtained by taking the Trade License test. The Trade License test takes place at the Safety Hub, where players can also access the Trade Book to view trade history and learn about trading safely to prevent scams.