Eggburt is a cameo in Adopt Me!. It serves no purpose other than being an easter egg at the Camping Shop.
Previously, Eggburt was an NPC during the Easter Event in 2019 where he resided at the stand where the items were sold. If a player had a Broken Egg in their inventory and talked to him, Eggburt would give the player a Pet Egg, which played a role in the Pets update.
It was used as a teaser for later updates. Players can still secretly find Eggburt and the Broken Egg in the Camping Shop in a secret room.
There is a stroller based around it, called the Eggburt Stroller, which has its face based on him. The face has round glasses and a shiny bling smile.
There is also a poster, which is used to decorate a player's House.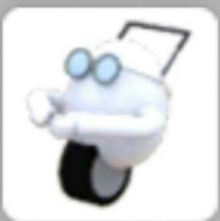 Community content is available under
CC-BY-SA
unless otherwise noted.