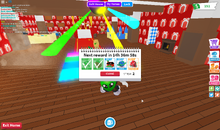 The Daily Reward is a reward earned every 15 hours in Adopt Me!
Players can earn them by logging into the game every 15 hours. Players can also see the number of days they've been on the game in the bottom corner of their screen or by looking on the sign in front of your home. The March 20, 2020 update (Star Rewards Update) added a new rewards system for players that keep their streaks up. Players who already had a login streak got stars. The more days on a player's streak, the more stars they earn, getting them more rewards. Conversely, if the player forgets to login and breaks the streak, then the player has to start all over again. The more the player's login streak is, the more the player will have.
On each 5th day, it will give a random amount of stars and will boost it up in Star Rewards. On the 30th day, it will give you a free Cracked Egg. The more you play, the more stars and better rewards you will receive.
It can also show outside the player's house on a little panel. If players have already collected their daily reward it will then say:
"Next reward in Xh Ym Zs"
(X for hours, Y for minutes, and Z for seconds)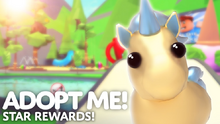 Rewards
| Day 1 | Day 2 | Day 3 | Day 4 | Day 5 | Day 30 |
| --- | --- | --- | --- | --- | --- |
| 25 | 50 | 100 | 200 | A gift and 12-20 stars | Cracked Egg |
| | | | | | |
Community content is available under
CC-BY-SA
unless otherwise noted.