The Crow is a Legendary Pet that can be hatched from the Farm Egg. It can be only be obtained from a Farm Egg and is one of the two legendary pets in that egg, the other being the Owl. Players have a 3% chance of hatching the Crow or the Owl. You can also obtain it by Trading. It's value is so rare in neon because it's the best neon pet. Crow is so beautiful and it's in so good value.
Appearance 
The Crow has black feathers, a gray beak, and black eyes.
Neon Version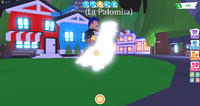 The Neon Crow glows bright white on nearly its entire body except for the beak and the eyes.
In the daytime, the Neon Crow looks like a matte white dove, while at night it looks like a brightly glowing dove.
Note: Doves do not exist in Adopt Me! (Yet) Only Swans look like it!