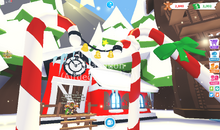 The Christmas Shop was a shop in Adopt Me! which appeared in the Christmas Event (2019) where players could buy Christmas Presents to have a chance of getting a vehicle, pet, or toy. It was not run by any NPC and players could buy items here with gingerbread, which was the Christmas event's currency. It could be found in the Winter Village.
The Christmas Shop was the Christmas counterpart of the Candy Trading Shop.
In the Frost Dragon update, the Frost Dragon was added in the Christmas Shop, which could have been purchased for

1000. There was also a Santa Dog update on Christmas Day. The Santa Dog pet (now called Dalmatian) cost

250. Both pets are no longer sold and now only obtainable through trading with other players.
Gifts
| Gift | Cost (Gingerbread) | Rarity | Legendary Chances | Egg Chances |
| --- | --- | --- | --- | --- |
| Christmas Gift | 1,440 | Legendary | 1% | 30% |
| Golden Gift | 4,300 | Legendary | 2.5% | 80% |
Toys
Pets
Pet
Rarity
Cost
Image
Robin
Common
None
Wolf
Uncommon
None
Polar Bear
Rare
None
Swan
Rare
None
Shrew
Rare

23,000

Arctic Fox
Ultra-Rare
None
Santa Dog
Ultra-Rare
250
Elf Hedgehog
Ultra-Rare

80,500

Arctic Reindeer
Legendary
None
Christmas Egg
Legendary

1,440

or

4,300

(From Christmas Gift or Golden Gift)
Frost Dragon
Legendary
1,000
Vehicles
Gift Rarity
| Gift | Common | Uncommon | Rare | Ultra-Rare | Legendary | Christmas Egg |
| --- | --- | --- | --- | --- | --- | --- |
| Christmas Gift | 30% | 21% | 10% | 8% | 1% | 30% |
| Golden Gift | 0% | 0% | 7.5% | 10% | 2.5% | 80% |
Egg Rarity
| Egg | Common | Uncommon | Rare | Ultra-Rare | Legendary |
| --- | --- | --- | --- | --- | --- |
| Christmas Egg | 45% | 33% | 14.5% | 6% | 1.5% |
Gallery