The Bat Dragon was one of the four pets that was obtainable during the Halloween Event (2019) in Adopt Me!. It is classified as a legendary pet, and it costs 

180,000 (

500 if the Candies were to be purchased with Robux).  
The Bat Dragon was added during the second part of the Halloween Event (2019), along with the Evil Unicorn. It is no longer obtainable, unless through trading with other players who own the Bat Dragon.
Appearance
The Bat Dragon has two orange horns on its head. It has an orange nose, black wing bones with red sinews, and a light brown body. Its stomach is a light tan color with the tip of its tail being black with an orange tip. On the back of its body, it has orange tail spikes.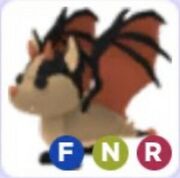 Tricks
Sit - Newborn
Lay Down - Junior
Joy - Pre-Teen
Jump - Teen
Twirl Around - Post-Teen
Triple Flip - Full Grown
Neon Appearance
The Neon Bat Dragon's nose, horns, wings, ears, and the spikes on its tail glow in a neon red/orange color.
Mega Neon Appearance
The Mega Neon Bat Dragon's nose, horns, wings, ears, and tail spikes cycle through lavender, turquoise, and magenta.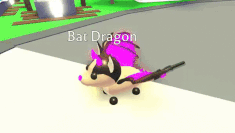 Trivia
Community content is available under
CC-BY-SA
unless otherwise noted.