The Aussie Egg is classified as a legendary egg that was released on February 29, 2020, replacing the Farm Egg, and left on October 10, 2020, at 10am PST. It has perked-up, dark brown ears, a light brown center, and a small pouch holding a smaller brown egg. It is meant to resemble a Kangaroo.
It is the fourth egg so far to be added to the Gumball Machine in the Nursery. It was after the Farm Egg and was replaced by the Fossil Egg. This egg takes exactly 6 tasks to hatch, and there are a total of eight pets that can be hatched from it. It is no longer obtainable, but the egg and pets are still obtainable through trading with other players.
Aussie Egg Pets
Trivia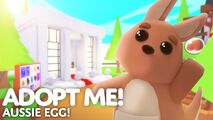 The Aussie Egg was created because the Adopt Me! developers wanted to help support the animals from Australian habitats, due to the recent devastating bushfires and ongoing floods, as described on their Twitter. 
If you zoom into the bodies of the Kangaroo and the Turtle, you can see a baby, also known as a joey, inside of the Kangaroo's pocket and three tiny shells inside of the Turtle. These are used and appear during one of the Turtle and Kangaroo's last trick, which is unlocked when the pet becomes Full-Grown. 
The Kangaroo Stroller and Kangaroo Pogo had a kangaroo face on them a long time before the actual pet was released into the game.
The Aussie Egg itself has two eggs: The egg, and the little egg in its pouch, which in no way affects the hatching and is just a decoration.  
The Aussie Egg is the fifth limited egg, behind the Safari Egg, Jungle Egg, Farm Egg, and Christmas Egg.
The Aussie Egg left the game on October 10, 2020, at 10 AM PST after being replaced by the Fossil Egg.
Being available for 224 days, or roughly 8 months, the Aussie Egg was on sale for the longest time out of all the eggs in the Gumball Machine so far.
Gallery
Community content is available under
CC-BY-SA
unless otherwise noted.